Here are some of the Continental Currency notes of May 20, 1777 Resolution.
So far I have managed to collect only these two notes.
This is the second scarcest of all the Continental note issues.
It is seldom seen in a decent grade.
This was the first issue to say "United States" instead of "United Colonies."
The issue contains 8 different denominations.
As a testament to its scarcity, Heritage -
in all grades and denominations of this issue
- only sold 2 notes in 2007 and 3 notes in 2006.
Since 2002 only 21 notes of this issue has been sold by Heritage (not counting the counterfeit notes and counterfeit detector notes) - 2 of which were of this denomination in lower grades.
May 20, 1777 $4 note
SN: 19346
Signed by J(ame)s Claypoole in red ink and by W(illiam) Govett in black ink. The emblem in front shows a wild boar charging into a spear with the motto: AUT MORS AUT VITA DECORA (Either death or an honorable life). The nature print on the back is of a mulberry leaf.
Friedberg #CC-65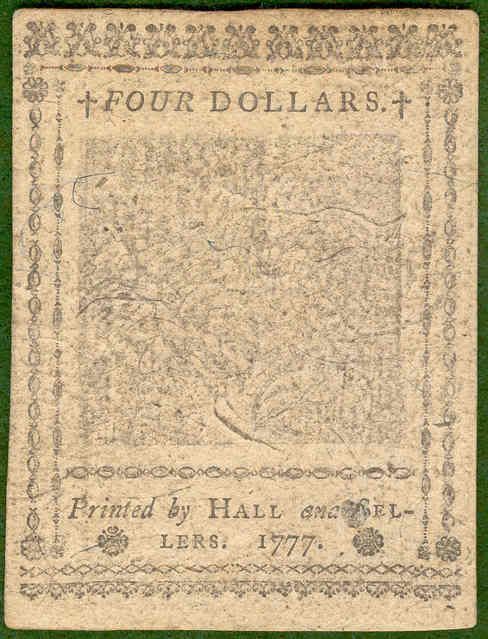 ********************************************
May 20th, 1777 $7:
(
SIDENOTE:
I stared at this note on a website for a month. But not wanting to spend the money [it was just before Christmas], I did not buy it. My wife found out about my quandry and surprised with the note for a Christmas present. I have a great wife!!)
SN 81842
Signed by J Rothrock in red and Cha(rle)s Cist in black. The emblem on the front shows a storm at sea with the motto: SERENABIT (It will clear up.) The nature print on the back is of a buttercup.
Friedberg #CC-68